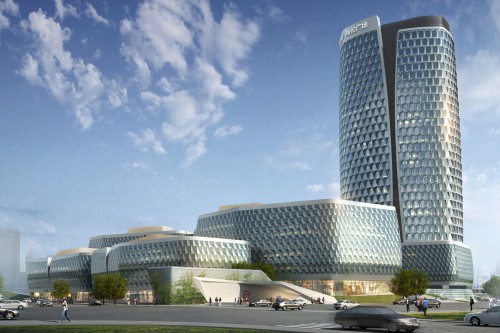 Hailun Center is located at the intersection of two metro lines, providing excellent connections to public transport and therefore a desirable location for office and retail. The general massing of the project consists of a 33-storey tower and a series of smaller mixed-use pavilions. Placed as objects in the flow of commuters, the buildings organise outdoor spaces of different scales and provide a platform for a variety of urban activities. The project reinserts a residual metro plot in the structure of the city, working with the landscaping elements that integrate ventilation towers and metro accesses to the street level and the ground level of the buildings.
The facade design emphasises the buildings as singular objects. The curved geometry of the buildings, with strong vertical lines, anchors the buildings within the city. The faceted and coloured texture of the facades provides a changing appearance when approached from different directions, adding to the dynamics of this Shanghai location.
Cynthia Markhoff has worked as a project leader for UNStudio during the design and construction of this project. Client: Financial Street Holdings, Shanghai.